Marilyn Lolacher
www.LittleGypsy.ca
If you are interested in purchasing any of the artwork here, please contact:

mlolacher@gmail.com
We will respond to your e-mail as promptly as possible. Thank you 🙂
General Information

:
Payment Options:
* Cash  / Cheque
* Visa
* Mastercard
* American Express
* Discover
* All applicable taxes will be added to the gallery listed price.
* Prices and availabilty are subject to change without notice.
* If a gallery listed painting is already sold, a similar piece can be created.
* All pieces shown are original paintings.
* Custom pieces can be created just for you!


Certificate of Authenticity: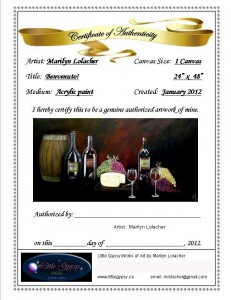 *All paintings include the certificate of authenticity signed by the artist.
* All certificates of authenticity will contain the photo of the painting.
* All the information of the painting will be on the certificate of authenticity.


Shipping and Handling

:
* Your purchase will be shipped within 3-5 business days after your payment is received.
* Shipping and Handling charges are not included in the gallery listed price.
* Clients will be notified of the amount of shipping charges at the time of purchase.
* Shipping and Handling prices will vary on size of painting ordered, and location of delivery, according to current transport costs.
*All paintings are packaged in appropriate protective packing and shipped through a recognized professional delivery service.
* Shipments within Canada will be sent by Express Post.